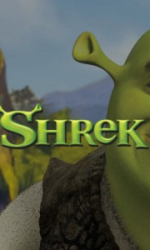 Shrek is not your usual fairy tale. From the moment our protagonist, an ogre named Shrek, voiced magnificently by Mike Myers, makes his entrance, it's clear this is no Cinderella or Snow...
Released:

DreamWorks Pictures

Director:

Andrew Adamson
Shrek is not your usual fairy tale. From the moment our protagonist, an ogre named Shrek, voiced magnificently by Mike Myers, makes his entrance, it's clear this is no Cinderella or Snow White. It's an adventure that starts in the heart of a swamp and unfolds in ways no one can predict. Sure, there's a quest, a princess in need of rescuing, and a menacing villain, but the similarities with traditional fairy tales end there.
This movie, a vibrant blend of humor, adventure, and unexpectedly touching moments defies the stereotype of a children's film. The plot's backbone is Shrek's quest to regain his stolen swamp, a home that scheming Lord Farquaad, excellently portrayed by John Lithgow, has claimed as his own. Cameron Diaz voices the feisty Princess Fiona, who is far from a typical damsel in distress. Eddie Murphy lights up the screen as the lovable and often hilariously annoying Donkey.
An Ogre's Tale: Comical Triumphs, Dramatic Twists and the Imperfections
Shrek's stunning 3D animation was not its only highlight. Those who were expecting a traditional fairy tale were instead welcomed with a gut punch of reality woven into the storyline. The gritty humor, pop-culture parodies, and evasion of cliches all worked exceptionally well to deliver a unique and engaging narrative. However, it's not a flawless masterpiece.
Shrek does not shy away from using bathroom humor, which can be a hit or miss, depending on the viewer's taste. While children might find these funny, they might "stink" for more mature audiences. Additionally, at times, the film showed moments of inconsistency with the use of modern cultural references. While mostly successful in keeping the audience engaged and amused, these disjoint references sometimes slightly pulled viewers out of their fantasy-induced reverie.
An Ogresome Ending: Audiences' Impressive Response and Reflective Conclusion
Despite the minor hitches, Shrek leaves a lasting impression on its viewers. Shrek captured the hearts of millions with its unique concept, leaving audiences grinning from ear to proverbial ear. It elegantly balanced entertainment and a life lesson: Beauty is more than skin-deep, going as far as using a mean-green ogre as the hero of the story.
The universally beloved movie set a new gold standard for animated films, impressing both critics and viewers alike. Delighted fans loved the unconventional characters and the unique direction in which the fairy tale unfolded. The film's immense popularity led to successful sequels, contributing to a franchise that came to be loved by generations.
From an unconventional fairy tale to a beloved classic, Shrek stands as an animated film that definitely made a name for itself. No matter the minor faults, Shrek is simply an unignorable part of pop culture. It is not just a fairy tale; it is, indeed, the greatest fairy tale 'never' told.
Pros
Unique Plot: Shrek deviated from the typical fairy tale format, presenting a fresh, innovative storyline
Humor: The movie is rife with comedic lines and scenes, many of which are enjoyable to both children and adults
Life Lessons: Shrek subtly teaches many valuable lessons, such as acceptance, inner beauty, and friendship
Characters: The characters are well-developed and lovable, and each has their separate arcs. Animation: The animation is top-notch, drawing the audience into the magical world of fairy tales
Voice Acting: The vibrant portrayals by Mike Myers, Eddie Murphy, and Cameron Diaz enhanced the overall appeal of the movie.
Cons
Bathroom Humor: The reliance on crude humor can be off-putting to some audiences, particularly those seeking a more traditional fairy tale experience
Pop Culture References: While mostly amusing, the occasional modern pop-culture references can disrupt the fantasy ambiance of the film
Predictability: Despite its innovative approach, the ending of Shrek remains relatively foreseeable
Character Jerks: There may be times when characters, especially Donkey, behave obnoxiously - which can be annoying to some viewers
Perceived Profanity: For parents looking for entirely clean content for younger children, the instances of implied profanity could be a downside.
Best for your business
Ready for your app popularity?
Then faster order the needed package and get the benefits of ranking top-rate!
Learn more